Are you looking to start a remodeling in your business, have you decided to prepare the facilities for the arrival of the summer season and do not know where or when to start? In Pavistamp we know that rehabilitating or renovating a pavement can be a headache and …
Are you looking to start a remodeling in your business, have you decided to prepare the facilities for the arrival of the summer season and do not know where or when to start? In Pavistamp we know that rehabilitate or renovate a pavement can be a headache and that is why we want to offer efficient solutions for your spaces. Discover in this article how to achieve it.
Winter is an ideal time to plan and carry out changes and modifications in spaces that, during the warmer months, are exposed to heavy foot traffic and overuse. Take advantage of this moment, take a look at the video and trust Pavistamp's products and experience to do it.
Sand pools as your remodeling solution
Swimming pools are a big bet in the type of business. They are usually the space where the first glances of visitors interested in spending their summer days there are deposited and it is essential that they look spotless, perfect, as if they had just been inaugurated. You are probably wondering what to do to achieve the expected results. Pay attention.
We have developed a new concept of pools that ensure high durability, resistance and comfort for those who enjoy diving into refreshing waters when high temperatures strike. This is the Beach Feel system and it should be part of your business if you want to make a quality leap in the overall environment.
Many businesses have already done it and the results have been noticeable from the start. The example of Balneario Leana allows us to discover a successful case worldwide. Within the system in general there are two specific materials that you should choose if you decide to take the step towards something completely new and unique. These are silica or quartz, completely natural aggregates that provide a distinguished aesthetic.
Beach Feel system to guarantee technology and modernity in your business
Sand pools. Everything you need is summarized in this Beach Feel system, the only one with certification in the market that guarantees a perfect finish and solves leaks and deterioration due to the passage of time, small or serious details for the proper functioning of a space for play and recreation such as an outdoor pool.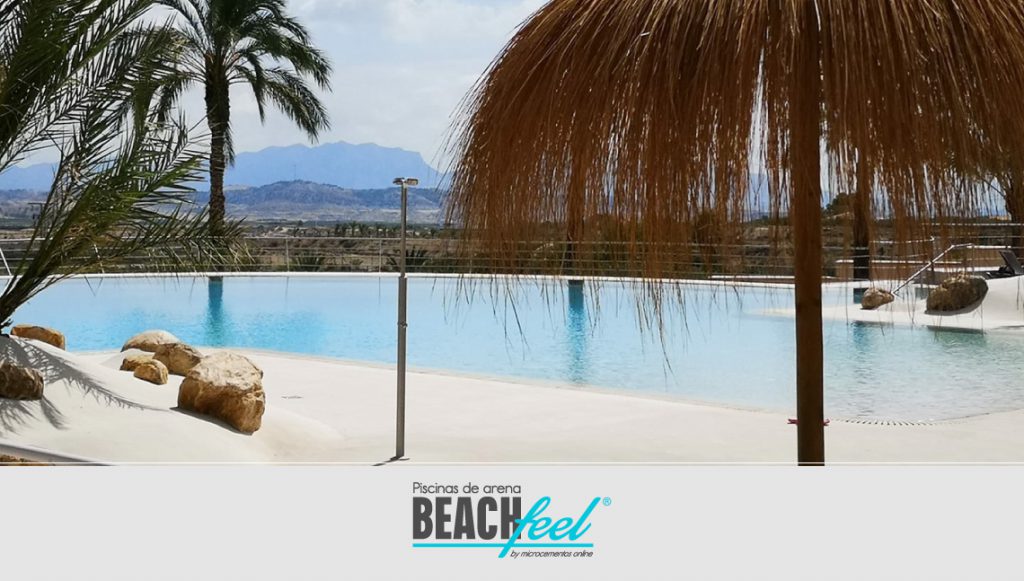 But not everything is to solve issues of the infrastructure of the deteriorated pool you have in your business. In turn, the primary characteristic of this type of innovative development is the palpable sensation of being on the beach and enjoying the sea from the materials used in its construction.
Safety is guaranteed with these luxury pools. The anti-slip properties of the materials will allow you to be relaxed in front of visitors or tenants. Even small children can move on this surface without any inconvenience. Don't forget that each design is customized and we work to help you synthesize what you are looking for.
Renew all surfaces with Pavistamp products.
But we do not only offer materials to design swimming pools. In turn, we have a wide range of products to cover surfaces and provide distinguished finishes. We refer to our flagship product Decopox, but also to resins and printed paving that provide outstanding results.
Decopox, this decorative coating with the resistance of an industrial product, is perfect for restoring, smoothing, leveling or providing decorative effects to interior floors, and the final effect is identified with a high resistance to wear and tear. You can use it to improve the interior or exterior spaces of your business such as terraces, garages, concrete, stable surfaces, etc.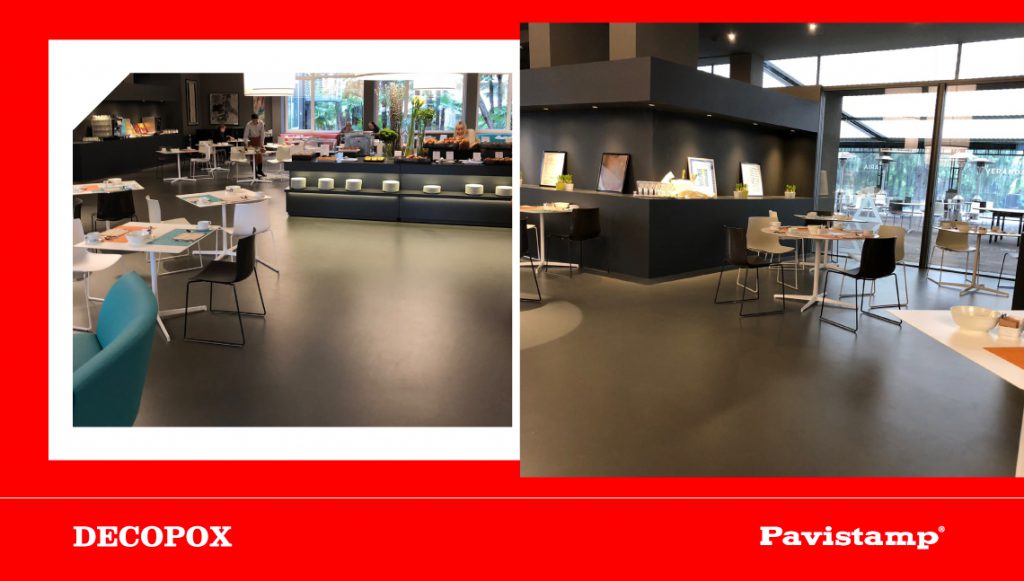 You have no excuses when it comes to guaranteeing a quality application to withstand moderate traffic, durability and resistance. Do you have any doubts? Call us for more information.
You are at the best time of the year to start with a work of this caliber. As you have seen you can use it in an infinity of places, it will depend on your pretensions. By the time the heat arrives the results will speak for themselves. Contact Pavistamp to get the necessary advice.