Ten years after the use of our Pavicem product as continuous flooring, we returned to the installations of an Italian industrial warehouse to see that their floors still look sensational.
This Pavistamp microcement has proven to be one of the most effective and durable coating solutions on the market and in this article we will analyze all its advantages based on a real paving project.
Why did we choose Pavicem as a coating solution?
In 2009 we were presented with one of those construction challenges that we at Pavistamp love so much: the paving of the Laverda facility in Breganze, Italy. Why was it such a challenge for the brand? Imagine an industrial building where there is not only a high traffic of people every day, but where there is also heavy machinery on display. A demanding scenario not suitable for any type of pavement.
Laverda is one of the most prestigious firms in the manufacture of tractors, harvesters and other agricultural equipment. Equipment that is characterized by its great weight and volume, but also by an image of excellence and quality that had to be reflected in all the details of these facilities, including their floors. In such a rigorous environment it was necessary to opt for a highly competent alternative and Pavistamp presented one of its star products; Pavicem as the perfect solution.
The application of the product was done by using several successive layers, first for the regulation of the support, then the color and finally the sealing of the surface that ensured the high resistance to wear that we demanded these facilities. Once again, this continuous coating of Pavicem microcement proved to be the most efficient alternative in this type of work.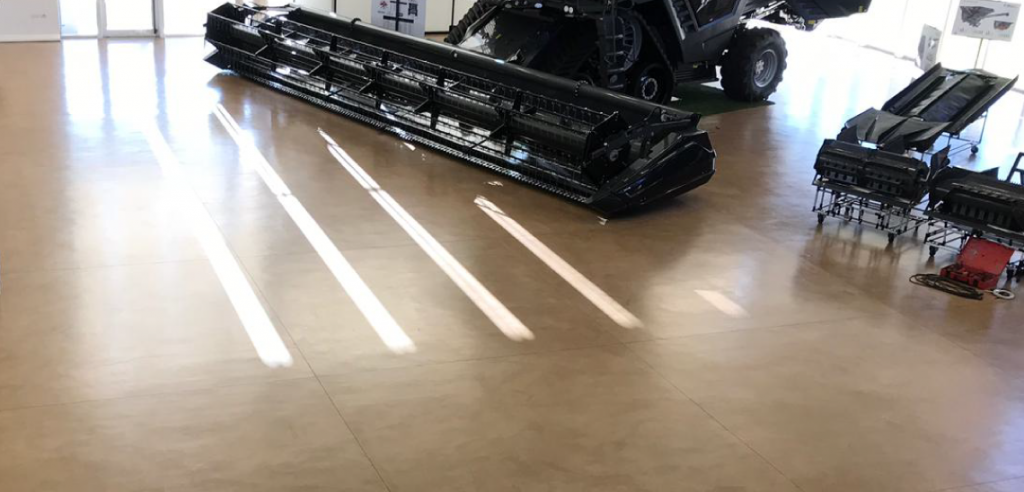 Advantages of Pavicem in the paving of industrial warehouses
The Breganze project is proof that this continuous cladding system works particularly well in the most demanding and challenging environments. Homes, offices, classrooms, and even commercial premises do not present such notable demands in terms of use. The real challenge arises when we are faced with a type of floor where heavy vehicles are going to circulate. Is it possible to guarantee that the pavement will withstand so many tons without breaking down or cracking and showing an attractive appearance? Thanks to the properties of Pavicem, yes:
It is a micro-mortar suitable for pedestrian traffic as well as for vehicular or industrial traffic.
It provides a continuous, resistant and seamless paving solution.
It can be used both indoors and outdoors and is highly resistant to changes in temperature and humidity.
It guarantees very attractive finishes, with a basic range of 56 colors in addition to other colors available on request.
Pavicem coating quality study
Shortly after the application of this pavement in these Italian facilities, Pavistamp commissioned a quality study to assess the results obtained by the application of these products. The test was carried out by the company Applus+CTC with a triple objective:
Determine the water absorption capacity of the exposed face of the pavement.
Determine the abrasion resistance of the surface.
Determine the freeze-thaw resistance by application of de-icing salts.
In each of these variables, Pavicem's results were more than remarkable, significantly improving the values set by the UNE standards that establish the minimum quality requirements for pavements. The tests carried out by Applus+CTC showed that these microcements not only meet all the requirements but also have exceptional characteristics in terms of wear resistance, impermeability and safety against the risk of falling or slipping.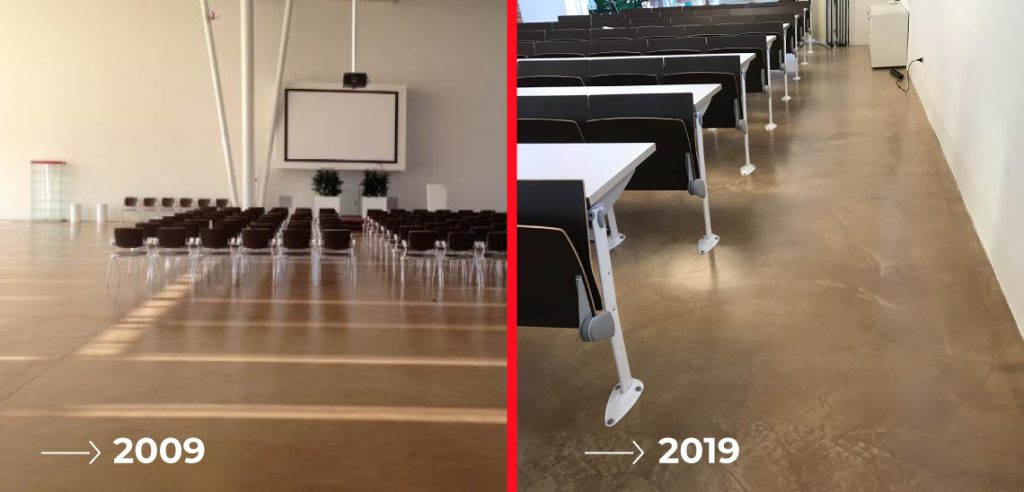 Performance that improves over time
A decade has passed since those works in Italy and since we carried out the quality tests and it is a good time to make new assessments. After ten years of intense pedestrian and vehicular traffic and the changes in temperature and humidity that are normal in any type of building, the flooring in the Breganze facility continues to stand out for its perfect finish, with no cracks and an even more attractive appearance than when it was applied, as the material has been polished over time.
As they say, paper stands up to anything. Although in the specifications of Pavicem we boast of its enormous advantages as a continuous coating solution in countless surfaces, it is in practice when it really shows its full potential. The effectiveness of Pavistamp products is evident in projects like this. Ten years of resistance, functionality and elegance in which the investment in a quality pavement has been more than amortized.