Do you know why choose Decosol as the integral system for construction or renovation projects? The main reason is that the properties of Decosol are so many and so varied that it is impossible not to take it as a reference material. One of its virtues is that it is classified as an industrial flooring.
Why to choose Decosol
In this article you will be able to see all the characteristics of Decosol at a glance and in depth. At the same time, we invite you to request Decosol's online file for more in-depth information. Our videos will also allow you to learn more about each system.
Decosol and its easy application.
Being a breathable cement paint, the application of Decosol is very simple and quick by professionals and council brigades, maintenance crews, etc. However, what stands out is its ability to be applied by private individuals. This is why it is so popular: because it does not require a great deal of knowledge to achieve the best results.
On which surfaces can Decosol be applied? On this wide variety:
Concrete slab
Mortars
Hydraulic paving
Paving stones
Printed flooring
Porous surfaces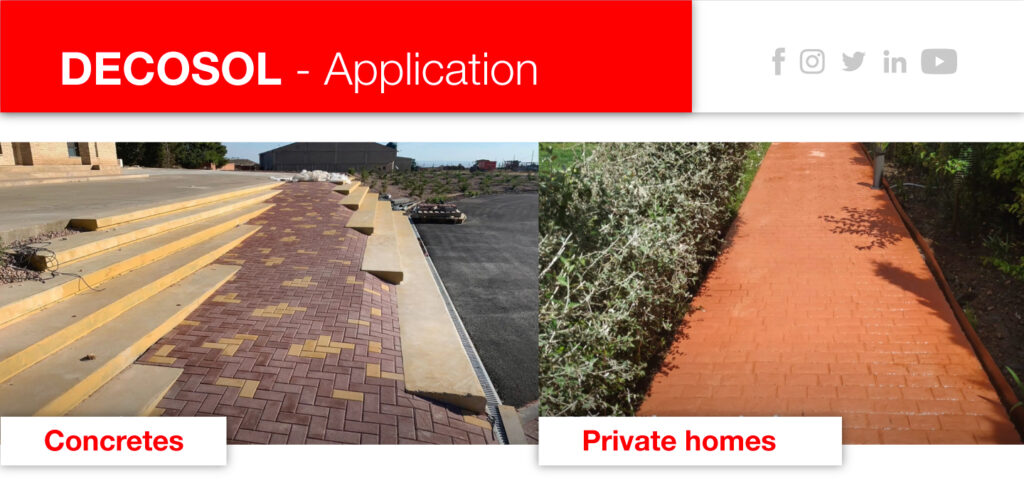 At the same time, it has a binding texture so that porous or uneven surfaces such as cobblestones are not a challenge either. Decosol can overcome the difficulty of a wall or floor with these characteristics without any inconvenience. It can be applied in several coats or layers depending on the colour to be applied or the background colour if the colour is changed.
Experiences with work already carried out in areas of high traffic and wear and tear attest to its quality.
Resistance to ageing among its greatest virtues.
For private homes, for large-scale works, for streets, roads or paving in towns, cities, swimming pools, housing estates cobblestones in towns, cities, swimming pools, housing estates, sports courts, walls, etc. In short: places. Once you know where Decosol can be applied, you will understand why we are talking about a highly resistant material. Years go by and the works can be walked on in the same way as at the beginning. They remain intact.
The emphasis is on resistance because if you choose to renovate floors, it is imperative that it is once and for all. And this virtue can only be achieved with Decosol.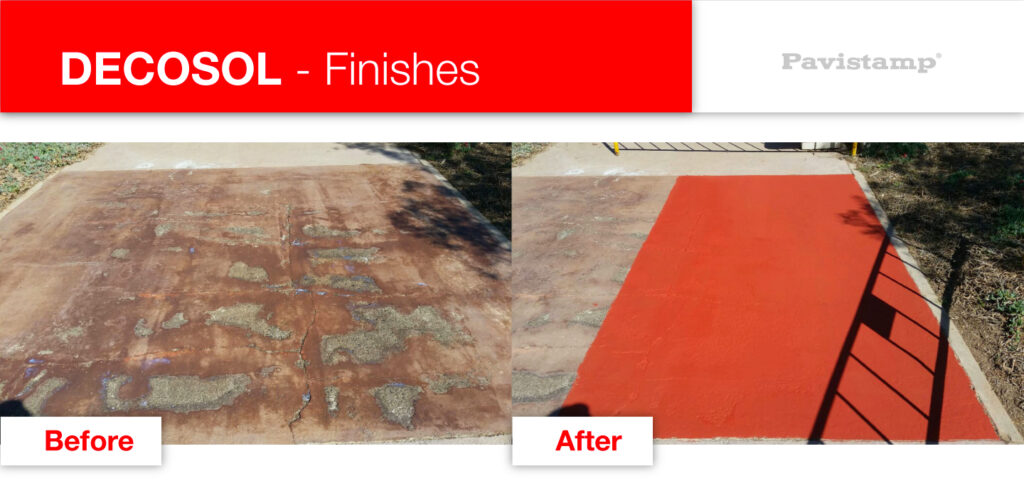 Decosol for freezing and thawing areas.
Decosol in its Decosol HD version allows the possibility of using it in icy and de-icing areas with salts. It is certified by APPLUS and is suitable for areas near the sea, where saltiness is the worst enemy of materials, penetrating them and disintegrating their internal structure. As it is qualified as an industrial flooring and complies with all current regulations, it can be applied safely.
Multiple colours available.
Are you looking to highlight certain points of a building site to make them look impeccable? Decosol's properties make it possible to do just that. Repairing, applying and being able to choose from the range of 56 colours available will make the finish unique and exclusive. Decoration is important and the dual decorative and industrial function of this product proves it.
Decosol is inserted in the market together with the diversity of integral systems that we develop from Pavistamp. Beach Feel and Decopox are just some of the most recognised. If you wish to obtain information about any of them, do not hesitate to contact us and we will solve all your doubts.