What is the main function of the construction systems, what are the best known systems, why incorporate them with a prominent space in our new website? In this article we will tell you about the usefulness of Pavistamp's integral construction systems to provide a comprehensive solution to your projects.
Our main objective is that you can obtain all the materials, tools and information on application methods at once with our construction systems. We have a wide catalogue to be able to make any type of stable surfaces thanks to the wide range of tools and products and thus carry out your work.
Beach Feel System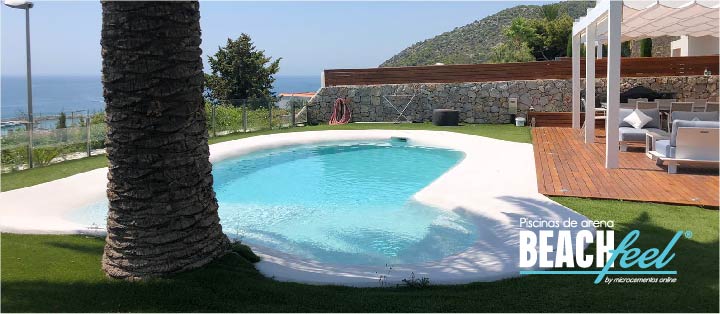 Do you want to build a swimming pool? Go for our sand beach system called Beach Feel. Purchase all the materials you need and even the tools to apply them: resins, aggregates, waterproofing, vapour barriers, sealants, etc. All from one place. The result is a non-slip surface, aesthetically superior to any other pool and with state-of-the-art technology. Beach Feel has all the products that comply with the regulations and it is a system with certification of the union of all the products.
What is the best decorative mortar for swimming pools: Micropool Coating
You may wonder what Micropool is for. It is not only one of the best continuous coatings for swimming pools and water areas, but it is also very useful for decorating pools and gives incredible aesthetic results.
When it comes to choosing mortars, you have to choose mortars with continuity. At Pavistamp we recommend a decorative continuous mortar for swimming pools, both for the pool shell and the exterior to offer the same continuity. Micropool can be applied in new construction or on tile, concrete or stable base with adhesion. Our R+D+I department has developed a product base which can be offered in the company's standard colours or universal colours.
Water-based resins for floors and walls
Do you know what epoxy resin for flooring is? Pavistamp's integral construction systems can be epoxy or polyurethane depending on the type of work. They are products that are applied to industrial work surfaces to enhance colour, add shine and provide resistant finishes. They can be offered in neutral colours or universal colours, and are usually water-based or solvent-based products.
Solvent Resins
System of resins with solvents that can be epoxy or polyurethane. Choose them for your industrial or decorative works. We give you all the products you need to apply them.
Decorative self-levelling mortars
Level, regularise and decorate floors with our self-levelling mortars. If you do not know how to apply a self-levelling mortar, we will advise you and train you correctly to carry out your applications with the best finish. We offer you all the products and tools you need to do it successfully. Bring levelling and fluidity to your floors with our mortar for exterior, interior and trafficable floors for light and industrial traffic.
Microcement for floors and walls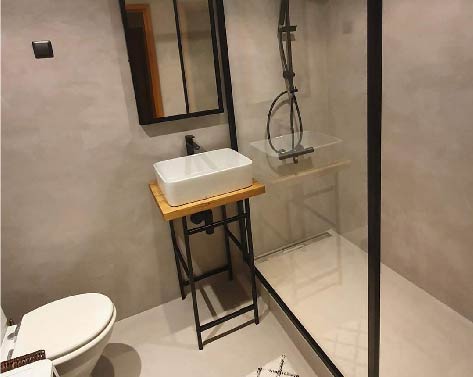 This coating for decorating walls and floors is successful because of its resistance and aesthetics. Microcements achieve the hardness of an industrial flooring for surfaces. Applying microcement is simple. Follow Pavistamp's instructions to decorate with this complete and distinguished system. The microcement is manufactured and supplied in colour without the need for separate pigmentation in order to offer a homogeneous work and avoid the failure of the finishes.
Decosol
Get a decosol repair pack for any type of porous surface. Among the main attributes of this breathable cement paint is the possibility of rehabilitating and decorating at the same time, and even in areas close to the sea and for ice and thawing with salts. It can be applied on concrete, paving stones, terraces, pavements, industrial buildings, swimming pools and, of course, on concrete printed with this complete Pavistamp system in a very simple way.
Printed paving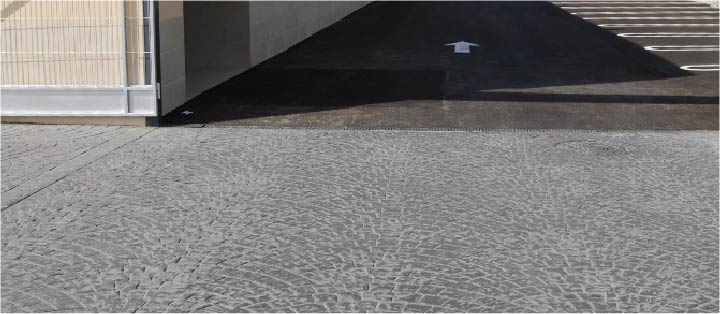 Do you know the printed paving for exterior and interior use? This integral system from Pavistamp allows you to mould fresh concrete and obtain a stamped, smooth, striped or trowelled finish. It gives great results in places such as car parks or garages. At the same time, it can be used as a printed flooring for wood as it works as a decorator of traditional flooring.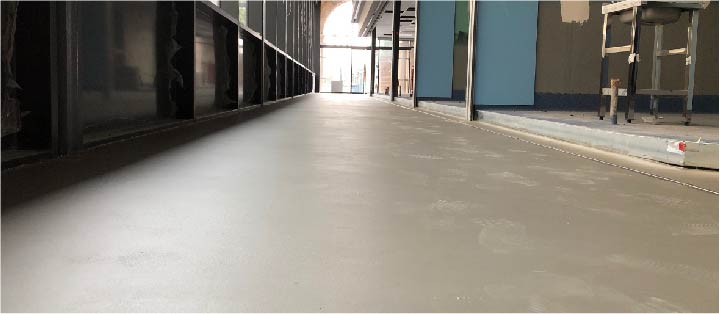 Redexy 3C decorative mortar
Coat walls and floors with a mortar that works as a decorative mortar with the strength of an industrial mortar. Apply Redexy 3C as a walkable mortar in areas of high wear resistance or in commercial areas such as shops and warehouses or also in areas where we want to look for a continuous metal without the need for rust as it is a composite material with non-rusting steels where beauty transports us to be on a continuous metal, provides extreme hardness. We put at your disposal one of our integral construction systems for high decoration on floors and walls with a wide range of colours available.
Decopox, coating mortar for interiors
The Decopox system covers floors and walls in an integral way with this decorative mortar. Applying this material inside your home is very simple and you can choose from a variety of colours or universal cards. You don't need any knowledge of building work, the finishes are customised and it is a walkable mortar with a high resistance to traffic. Choose it for your next building site.
Buy drainage products for exteriors
The proposal of this integral construction system by Pavistamp is to incorporate draining paving to your indoor floors or the more traditional outdoor ones such as the areas between the house and the garden, surfaces near swimming pools or other spaces that are affected by rain or water and where it is necessary to avoid the formation of puddles.
Cover surfaces with our drainage products made from aggregates, resins or cements. You are looking at a high quality ecological paving. You can choose the colour depending on the resin system, where you choose the tone of the aggregates, or the cementitious system, where you choose the pigmentation.
Stone Feel, mortar that contributes to protecting the environment
Stone Feel mortar is made from recycled aggregates to achieve continuous pavements with hi-tech concrete. It upholds the importance of environmental care through the reduction of chemicals and carbon dioxide, reuse of minerals, among others.
Incorporates the Green Line Eco with this ecological paving for new or existing works, shopping centres, offices and homes, achieving a balance between price, resistance, hardness, style and sustainability, helping in the recycling of materials. Ask for available colours, customised product and at the same time personalised either in the base colour or in the recycled colours.
You already have general information about each of our integral construction systems. Remember that you can find more information on our new and renewed website. To find out more about the particular qualities, details, technical aspects or any other questions that are unclear to you, please contact us.